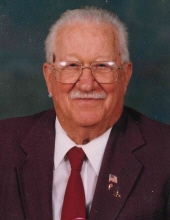 Harry B. Watson
December 29, 2022
Date of Service: January 6, 2023
Interment Location:  Crown Section
Harry B. Watson, age 102, of Johnson City, Tennessee, walked into the arms of Jesus on Thursday, December 29, 2022, at James H. Quillen VA Medical Center.
A lifelong resident of Carter County, Harry was born February 8, 1920, to the late David Lawson Watson and Stella Mae Leonard Watson. He enlisted in the Army to serve in the Western Front as a PFC in World War II. It was intended that he land on Normandy Beach, but instead he landed on Utah Beach the day after D-Day where he was captured by German soldiers. He was listed MIA for six months. Harry was held as a POW in Memmingen, Germany for 11 months and 21 days, until General George S. Patton liberated the camp where he was held prisoner. Harry always said he never regretted his service to this great country, and he would often remind others that freedom isn't free.
Shortly after returning to the United States, Harry married the love of his life, Elsie Elaine Freeman Watson on June 27, 1945. They resided in the Pinecrest/Milligan area and had three daughters, Karen, Linda, and Ellen. He worked at North American Rayon Corp for over 50 years, only missing one shift due to the birth of his daughter.
He was a longtime member of Tacoma Church of God. He was a member of American Ex-Prisoners of War- East Tennessee Chapter and Rolling Thunder Tennessee Chapter 4.
In addition to his parents, Harry was preceded in death by his wife of 62 years, Elsie, in 2007; granddaughter, Kimberly Dawn Quillin; brother, Robert Watson; sister, Margaret Slayton; and sons-in-law, Charles Smith and Ted Welch.
Those left to cherish his memory include his daughters, Karen Elaine Lane (and Claude) of Kingsport, Linda C Lyons (and Shelby) of Johnson City, and Ellen Fay Welch of Elizabethton; granddaughters, Karen Ervin (and Thomas) of Limestone, Kristen Babb (and Mark) of Johnson City, and Heather Hughes of Johnson City; great-grandchildren, Brittney and Lindsey Babb of Johnson City, Jonathan Ervin (and Mahala) of Limestone, William Ervin (and Sara) of Limestone, and Tristan Quillin of Jackson, TN; and great-great-grandsons, Archer Keith Crawford Bruner and Baby Boy Ervin to be born in February of 2023; as well as a host of additional family and friends.
Harry's family will receive friends from 5:00-7:00 pm on Thursday, January 5, 2023, at Morris-Baker Funeral Home. A funeral will immediately follow, beginning at 7:00 pm, under the direction of Rick Ballard. Those attending are respectfully asked to please wear a face covering. The service will be available to view on the Morris-Baker website, under Harry's obituary page. A committal service will commence the following day, at 11:00 am on Friday, January 6, at Happy Valley Memorial Park, in the Mausoleum Chapel. Those wishing to attend are asked to please meet at the cemetery by 10:50 am.
Active pallbearers will include Jonathan Ervin, Tristan Quillin, William Ervin, Lindsey Babb, Barry Redmond, and Mark Babb. Honorary pallbearers include Trevin Quillin, Mike Freeman, Rolling Thunder Tennessee Chapter 4, and American Ex-Prisoners of War- East Tennessee Chapter.
Memorial donations in Harry's honor are directed to Honor Flight Network (https://www.honorflight.org/), Rolling Thunder Tennessee Chapter 4 (https://www.rollingthundertn4.com/), or The Gideon's International (https://www.gideons.org/).
Memories and condolences may be shared with the family via www.morrisbaker.com
Morris-Baker Funeral Home, 2001 E Oakland Ave, Johnson City, Tennessee, is honored to serve the Watson Family. (423) 282-1521